Himalaya Confido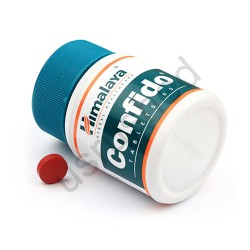 Rating :

Himalaya Confido tablet is an ayurvedic proprietary solution and phytopharmaceutical preparation that is used for managing Early Discharge, spermatorrhea, and nocturnal emission. This medicine is a non-hormonal therapy for men that are suffering from several diseases. In addition to providing strength, the herbal solution also lowers the anxiety linked to the performance and regulates the normal discharge process.
The medication is known to be a new non-hormonal way of treating male impotence condition. The pill is known for working by producing more dopamine in the human brain as well stimulating the Leydig cells for producing more testosterone in the body. The medicine Himalaya Confido has a number of other positive health benefits nudging reducing stress and anxiety in an individual, as well as enhancing the immune system so that your body can fight off diseases in a better and easier way.
All of the ingredients present in Himalaya Confido are known to be particularly selected for their natural benefits for the male sexual system. Almost all of the ingredients that are used in this particular product are trusted to be composed of thousands of years for their medicinal properties, and hence their long-term use as a traditional medicine is justified!
The medicine Himalaya Confido is an Ayurvedic preparation and consists of Gokshura that works as an aphrodisiac. The medicine enhances the libido and also improves sperm count. Kapikachchu is the second ingredient of this medication that helps in the management of sexual dysfunction.
As it is with any other medications or treating form, various individuals and various conditions that have various kinds of requirements with Himalaya Confido medicine. One should take one tablet of this herbal medication twice a day with the meals. You can also take them directly an hour before going to bed.
The herbal medication is possibly safe for most men, as it contains Rauwolfia Serpentina. Rauwolfia Serpentina helps in lowering the blood pressure and it might interfere with your anti-hypertensive drugs. However, the quantity of its alkaloid is completely insignificant, but a patient that found with low blood pressure should consult the doctor before using it.
Write a review
Your Name:
Your Review:
Note:

HTML is not translated!
Rating:
Bad
Good
Enter the code in the box below: