Proscalpin 1mg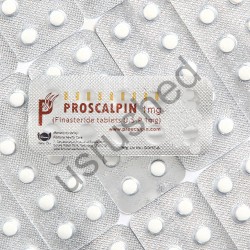 Rating :

Proscalpin 1mg is composed of Finasteride as a main active component. This medicine is an oral medication that is prescribed for treating male-pattern baldness in adult men with the mild-to-moderate condition of hair loss. This particular medication not only lowers hair loss but also helps in enhancing hair growth. This particular medication might also be used for treating other conditions that are determined by your doctor.
The dosage of Proscalpin 1mg prescribed to each patient shall vary as per their health condition. Make sure that you always follow your physician's instructions and/or the directions on the prescription drug label.
Usually, interactions of the medication occur when it is consumed with another drug or with food. Before you consume a medicine for a particular ailment, you should inform the health expert about consumption of any other medications, which include non-prescription medications, over-the-counter medicines that might enhance the effect of Proscalpin 1mg, and dietary supplements including vitamins, minerals and herbal, so that the doctor can warn you of any possible drug interactions.
Do inform your doctor know if you smoke, take alcohol or caffeinated drinks, or consume some illegal drugs as these all might interfere with the action of your medication. Make sure you inform your doctor of any medical conditions you may have or any family history of several medical problems. Avoid starting or stopping the using any medicine without consulting your doctor.
Like other medicines, Proscalpin 1mg can also lead to some side effects. If they do occur, the side effects of this medication are most likely for being minor and temporary. However, some might be severe and might need the individual for informing the doctor or visit the nearest hospital as soon as possible.
Proscalpin 1mg can lead to some side effects such as impotence, testicular pain, breast tenderness, ejaculation disorders, rash, and swelling. This is not a complete list of all side effects. Do concur with your doctor and follow his directions for safety outcomes.
Write a review
Your Name:
Your Review:
Note:

HTML is not translated!
Rating:
Bad
Good
Enter the code in the box below: