Himalaya Speman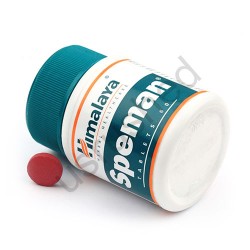 Rating :

Himalaya Speman medicine is a natural herbal solution that effectively enhances sperm count and chances of becoming potent are much high. The medication gives hope to the childless couples. This 100% effective herbal medicine is an ideal therapy for men with penile issues. It helps in enhancing sperm count and semen quality. The medication also treats various sexual descries like premature ejaculation, ED and aids in enhancing sexual desire and quality of semen.
The herbal solution Himalaya Speman is composed of herbs and minerals, which has some potent androgenic action and enhances testosterone levels. Such component in the medicine promotes spermatogenesis and enhances the total count as well as the quality and morphology.
The medicine is indicated for oligospermia and testicular functions. Gokshura contains PROTODIOSCIN that helps in converting to DHEA (DEHYDROEPIANDROSTERONE). DHEA is a precursor of testosterone. Some other ingredients are also known for playing similar role and some acts as aphrodisiac and some enhances the quality of spermatozoa.
The main purpose of consuming Herbal Himalaya Speman is enhancing chances of conception and treating oligospermia. However, it alone can help, as pill has herbs like Ashwagandha, Shatavari, Yashtimadhu, Vidarikand, etc. should also be included for treating male infertility as per patient's body type and Ayurvedic Dosha Analysis. This particular approach helps in getting promising results.
The main action of Himalaya Speman is observed on the testosterone level. It helps in enhancing the total count and promotes spermatogenesis. The long-term use of herbal medication improves testicular functions and enhances chances of conception.
Consumption of 2 tablets of twice a day is appropriate dosage for treat oligospermia. The long-term treatment (around 4 to 6 months) with this herbal medicine is highly advisable for getting better results.
Himalaya Speman is likely safe in recommended dosage for most individuals. There is no noted side effect observed with consumption of this long-term use of the Speman.
Write a review
Your Name:
Your Review:
Note:

HTML is not translated!
Rating:
Bad
Good
Enter the code in the box below: